Watch Repair
Watch Repair
J. Thomas Jewelers is pleased to provide you with high end quality watch repair!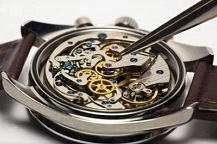 Our watchmaker has the latest certification available "Certified Watchmaker 21st Centrury" from the American Watch and Clockmakers Institue. Member AWCI, NAWCC, and the Chronometer Club.
We provide service for Rolex, Omega, Longines, Rado, Tissot, Hamilton and many other brands. What does that mean to you? Short of sending it directly to the factory for servicce, we can locally provide you with a certified watchmaker who is able to obtain quality factory parts and perform repairs to factory observed standards. THIS IS A BIG DEAL! Ther are very few watchmakers who maintain these standards. To meet these standards our Watchmaker spends thousands of dollars on the latest equipment and maintains precise records in addition to providing a virtually dust free work atmosphere that is regularly inspected by Rolex and Omega.
So, bring your watch in for your free repair estimate today!
Free estimates
No obligation
Certified Watchmaker
Service many brands including Rolex, Omega, Longines and more
Fast turnaround time