Community Involvement
Community Involvement
J. Thomas Jeweler's Community Involvement Philosophy
It's fitting and revealing that owner Tom Costigan's handcrafted signature custom designed jewelry line is named Eternal Path® and that his two favorite designs in the collection are 'Passion' and 'Blessed'. In 2015, after celebrating the 20th anniversary of J. Thomas Jewelers, Tom - a state and national award-winning master craftsman – looks back at a career that has meant more to him than making a living. Tom explains his registered trademark WeMakeLoveRock® which has become his business mantra, stands for 'magic, love, commitment and touching people's lives'. Tom feels this communicates his mission and defines his promise to his guests and surrounding community. Above all J. Thomas prides itself in exceptional customer service; "we go over and above not only by our commitment to supporting the surrounding community but by priding ourselves in offering the very best quality and service to our guest's".
Tom combine's his exceptional service and passion for his guests with his enthusiasm for community outreach and business connections. As an avid networking enthusiast, who is currently, active with the RRC Tom explains, "I'm really involved in getting our name out there, but it's also about helping others". For example in early 2016 Tom focused his promotion and marketing efforts towards Rochester Chamber non-profits such as the Rochester Neighborhood House by hosting a soup drive in addition to providing a donation of jewelry to benefit the Freedom Road Transportation's fund raiser event. Tom's long list of community involvement and helping others below speaks for itself.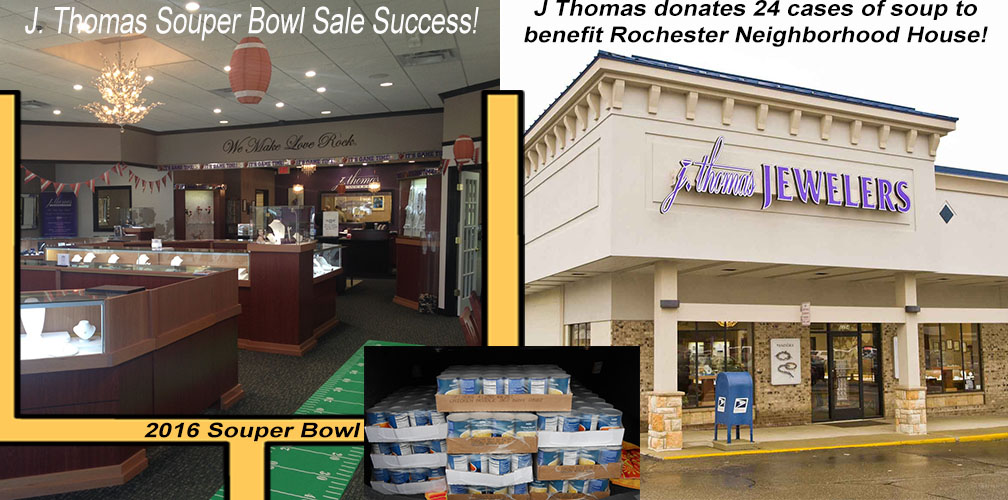 Tom has helped and touched many lives. Here is a list of just a few organizations J. Thomas Jewelers has contributed to over the years and continues to contribute to. J. Thomas Jewelers, WeMakeLoveRock!