J. Thomas Jewelers is a family-owned and operated jewelry store nestled in Crook's Corner Plaza located just north of M59 in Rochester Hills. Tom Costigan began his career at Dobie Jewelers in Royal Oak while attending high school. He had no idea at that time of the road that he would be traveling. His humble beginnings there included engraving and basic jewelry repair. During the ensuing years, Tom worked for many large retail chain jewelry stores, overseeing the repair services for 12 plus stores and traveling to various states for jewelry remount events. Training in the early years consisted of attending out-of-state trade schools for stone setting and routine repairs. Tom was an apprentice to some of the best craftsmen in the industry during ensuing years. Now, as a master craftsman himself, Tom has won awards in custom jewelry design from the Michigan Retailers Association and nationally with the Independent Jewelers Organization.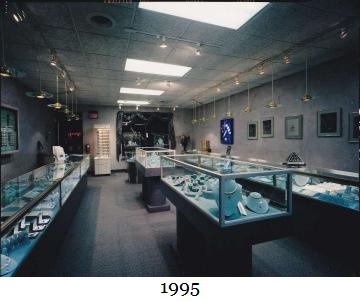 Opportunity arose in 1995 for Tom to "leave the nest" and open his own independent retail jewelry store, J. Thomas Jewelers at 2248 Crooks Road in Rochester Hills. In memory of his father James, who passed away before his store came to fruition, the first initial of his fathers name was placed in front of the name Thomas. The original store, which was 1,600 total square feet, was renovated completely in 2004. There was 800 square feet of showroom, with the additional space being devoted to office, repair service and manufacturing. On December 9, 2010 the store completed expansion and relocated – just two doors to the south – to better serve the needs of their guests. The new store boasts a beautiful diamond buying room and 2,000 square feet of showroom, with the additional space being allocated to office, repair service and manufacturing. J. Thomas Jewelers is now located at 2254 Crooks Road. Tom and other staff travel to Antwerp, Belgium to hand select diamonds for J. Thomas Jewelers guests. Purchasing a diamond from Antwerp that is hand-picked just for you is a very special and unique experience. It represents a commitment to the very best in quality and value.
2010
J. Thomas Jewelers offers a large selection of bridal, loose diamonds, and gent's wedding bands. Many custom designs are on display in the store. Knowledgeable staff will assist you in the creation of your own one-of-a-kind jewelry item. There is also a fine selection of colored gemstone jewelry, designer sterling silver and pearls. Personal satisfaction is derived from helping guests mark special moments – engagements, weddings, births, anniversaries – or for that "JUST BECAUSE MOMENT". Whatever the celebration, jewelry says it all. Special events are scheduled throughout the year: Gemstone Roundtables, Estate Jewelry Sale, a Weather Promotion, and also Estate Buying Events. The J. Thomas staff combines eighty plus years of experience together to accommodate all of your jewelery "wants and needs". Please contact any of our staff if you have questions or would like to set up an appointment before or after regular business hours. Thank you for visiting our website and for the opportunity to serve you. We look forward to meeting with you in the near future.