First Place IJO 2016 Custom Design Winner
2016 First Place Custom Design Winner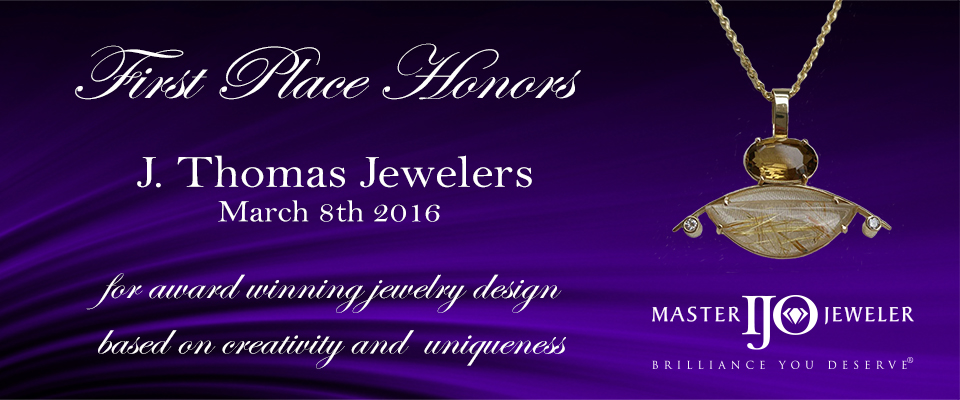 Congratulations to Tom Costigan!
Winner of this years 2016 Jewelery Design Contest!
For Imediate Press Release March 2016
LOCAL JEWELER GAINS
RECOGNITION FOR JEWELRY DESIGN
Southport, CT, March 2016. Tom Costigan from J. Thomas Jewelers in Rochester Hills, MI was recently honored by his peers when one of his original designs was selected as a winner in a jewelry design contest held at the semiannual conference of the Independent Jewelers Organization (IJO) in Orlando, FL.
"This really is very special to me," Costigan said, "as all those who voted were retail jewelers and designers like myself. I feel very honored to have had my design chosen from among so many outstanding pieces."
The winning piece, which took first place honors, was a 14kt yellow gold cresent moon quartz, smokey quartz and accent diamonds. According to the IJO contest coordinators, "there were 45 spectacular pieces submitted in this contest, and all were worthy of honors. The fact that Tom was recognized just confirms his unique ability."
J. Thomas Jewelers is the exclusive IJO member in the Rochester Hills area, and while in Orlando, Tom had the opportunity to see the very latest in jewelry designs for the upcoming spring season. He also attended a series of educational seminars designed to allow them to provide the finest service to local customers, in addition to their exceptional talent for exquisite design.
IJO is the world's largest jewelry buying group enabling its members to buy jewelry and supplies at tremendous savings that they can pass along to their customers. To be eligible for membership, retail jewelers must exhibit the highest ethics and offer the finest quality and value in their communities.