Gold Jewelry From The Iron Age Found In Br...
Gold Jewelry From The Iron Age Found In Britain
Posted on Saturday, March 4th, 2017 at 2:33 pm by Noreen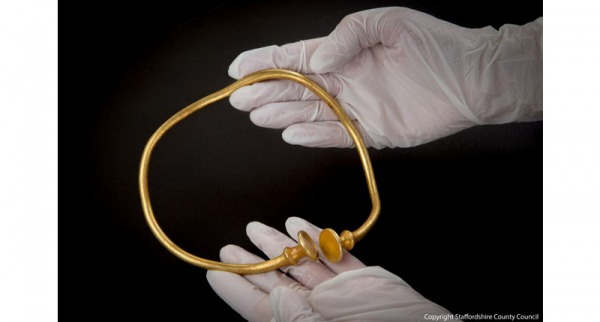 By Ashley Davis
Ashley.Davis@nationaljeweler.com
Leekfrith, England--Two men who were metal-detecting in a field in Leekfrith, a civil parish in Staffordshire, England, managed to dig up some important buried treasure.

Mark Hambleton and Joe Kania found what is being referred to as the "Leekfrith Torcs"--three gold necklaces and one bracelet that date to the Iron Age, approximately 2,500 years ago.

The British Museum believes the pieces to be the oldest Iron Age gold work ever found in Great Britain, estimating the work's origin to date to about 400-250 BC.
Image courtesy of Staffordshire County Counci