J. Thomas Jewelers receives Rochester Regi...
J. Thomas Jewelers receives Rochester Regional Chamber Sunrise Pinnacle Award
Posted on Thursday, November 3rd, 2016 at 10:03 am by Administrator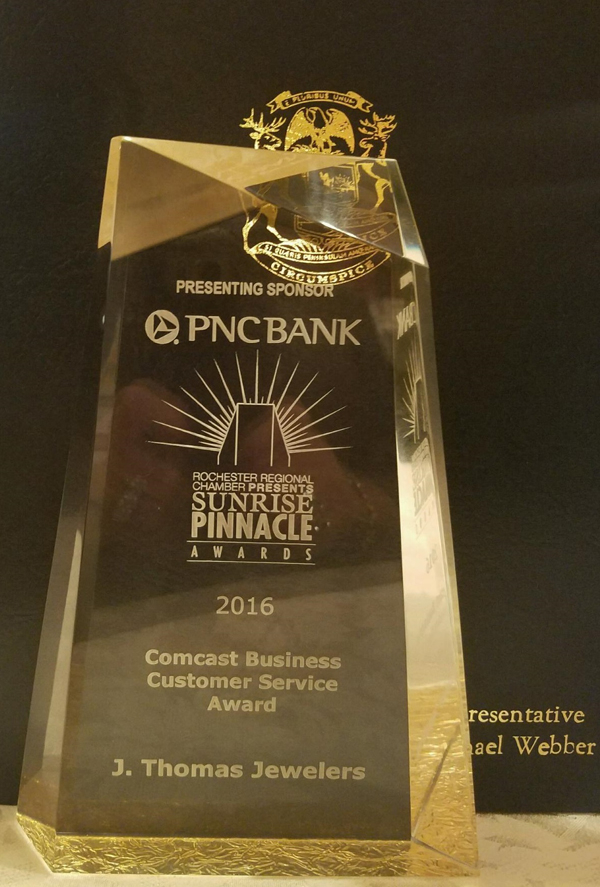 Tom Costigan and his staff are honored to receive the Customer Service Award. Our registered trademark is "We Make Love Rock®", which stands for magic, love, commitment and touching people's lives. We are not just a jewelry store says Costigan, he and his staff have a passion for customer service and they endeavor to remember special occasions through their jewelry selection. The best source of business he says is a referral from a guest that enjoyed a "WOW" experience.
J Thomas Jewelers has been proud to be a family owned/operated jewelry store in Rochester Hills for 21 years. Costigan's early years as an apprentice gave him the desire to establish a career as a Master Jeweler Craftsman. Over the years he has been the recipient of many custom jewelry design awards from the national Independent Jeweler Organization. Costigan says these awards are very special as they are voted upon by his peers. Making people happy confirms our brand promise; "We Make Love Rock®". Creating one of a kind jewelry, wearable works of art or preserving beloved heirlooms gives me the opportunity to touch people's lives, says Costigan. Our guest's become part of the J. Thomas family because we care.
RCC Press Release